Are you considering a white dove release in Philadelphia? You've come to the right place! Visions of White has been providing dove releases to the Philadelphia area since 2013 and we're here to help YOU create special memories by releasing doves. Memories such as you can see in the video below.
In this article, you will discover the incredible display a dove release adds to your special event. We'll even walk you through the booking process and explain the details of reserving your dove release. You'll also get special insider tips on
How many doves you should release
Best practices (two things you probably didn't think of)
What (and who) to avoid
What to expect on the day of your event (what if it rains?)
and much more!
Don't have time to read this whole post? Here's a boiled-down "short and sweet" version just for you:
---
Releasing doves is a beautiful way to honor your loved ones and create memories that will last a lifetime. Arranging for a dove release in Philadelphia is easy!
First, decide on how many doves you'd like and get a quote by clicking on the "Services" above. Many people opt for a small number of doves, but trust us, releasing a flock is always spectacular!
Then, give us a call at (484) 544-DOVE or send us an email to find out our availability. Once you place the $50 deposit, your dove release is reserved. If we're not available for some reason, we'll do our best to help you as best we can, even if that means referring you to a competitor.
---
That's it! Easy, huh?
But what if you want all the details? Step right this way, ladies and gentlemen…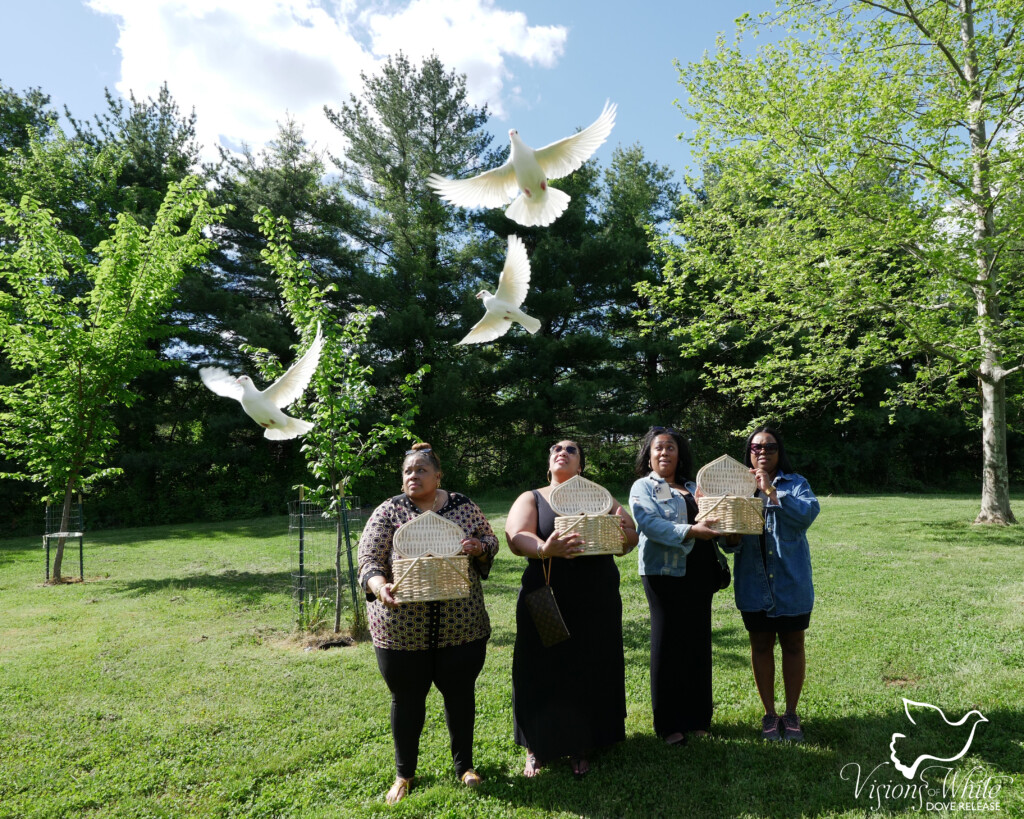 Why Release Doves in Philadelphia?
There are a number of reasons to release white doves at your event. These beautiful birds and their symbolism can create an infinite amount of unforgettable memories. Whether you release a single dove or a whole flock, you will remember the experience for the rest of your life.
Releasing doves will give you a tangible tribute to your family and loved ones. The memories we hold dear have to do with two things: people and experiences. When you release doves, you combine both of those elements into an enduring legacy.
Show taste, elegance, and special symbolism by having a dove release at your event. Now you probably have the following burning question:
How Many Doves Should I Release?

That's a great question, and probably the one we hear the most. Our answer? We recommend considering two factors when deciding how many doves to release at your event: symbolism and budget.
Is there something special about the number of doves you would like to release? Often a bride and groom will release two doves during their wedding ceremony, symbolizing their love and commitment to each other.
Are you celebrating one special person or several people? Is there a number that is symbolic to the person you're honoring? How about an age that you're trying to highlight? For one of our customers, we released 27 doves, representing 27 years of life at a memorial service at Ivy Hill Cemetery in Philadelphia. For a more in-depth post on the subject, please see "How Many Doves Should I Release?"
It is obvious that we all have different budgets to work with. So what happens when you can't afford the number of doves that will be special to you? In this case, perhaps you could try something a number of our customers have done with good success: make it a team effort.
Think about it, if a certain number of doves will be special to you, surely it will be special to someone else as well. Combining resources, whether it's in a time of great joy or mutual sorrow is uplifting in many ways. Consider the old proverb:
"Shared joy is a double joy; shared sorrow is half a sorrow."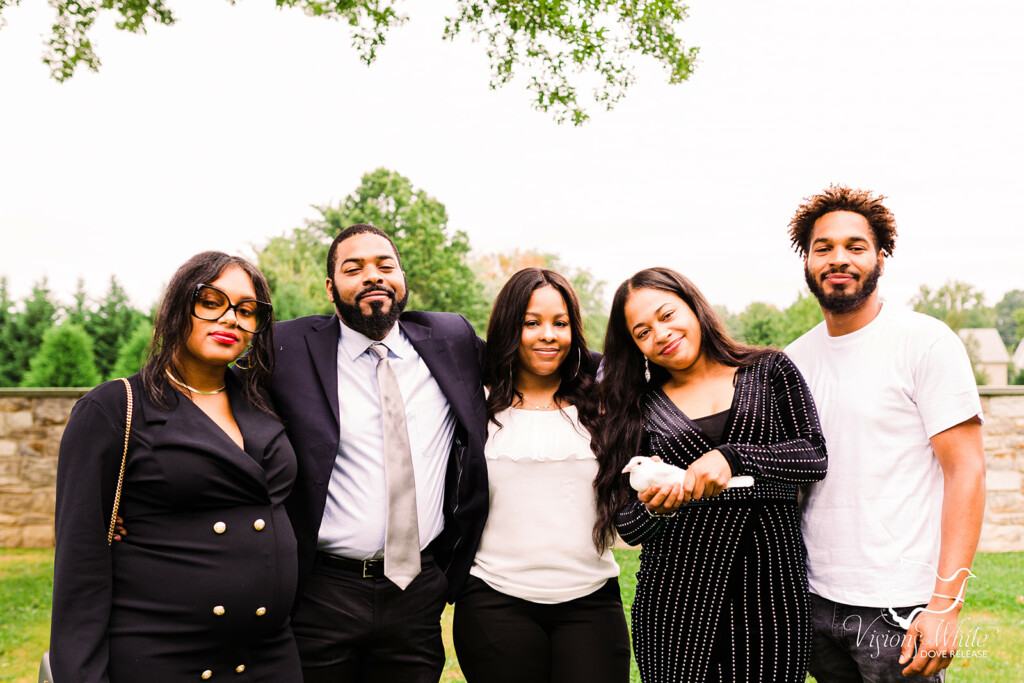 Cost of Releasing Doves in Philadelphia
The cost of the doves depends on factors like the time involved for preparation and how far our handler will have to travel to your release. Of course, there's also the number of doves that you request. As each of our doves goes through a lot of training before it's released, that preparation is reflected in the cost.
Your cost to release doves in Philadelphia will vary depending on the event type, the number of doves, and the specific location.
Finding what your dove release in Philadelphia will cost is a breeze! Here's an example of our calculator for a funeral dove release in Philadelphia:
Best Practices For Releasing Doves
We'll be honest with you – a dove release doesn't take long. Once the baskets are opened, our doves are trained to fly out promptly. This isn't helpful for those trying to quickly snap a picture from their phone. So, we encourage your guests to do something simple yet effective: take a video in SLOW MOTION.
Most modern smartphones have this option and using it will let you see the graceful movements of the doves that you would miss otherwise. Taking a video of doves in slow motion helps preserve that special memory and allows the memories to be shared far and wide.
Here's an example:
The next best thing that we'll suggest is to play music during the dove release. Start the song shortly before the doves are released.
No speaker? No problem! When we come out, the handler will bring a bluetooth speaker to which you can connect your device and play music that is special to you. Our suggestion is that you choose something reflective and melodious, as that adds to the overall beautiful experience.
Well, those are two things you probably didn't think about, but we'll give you a few more!
More tips
Arrange for someone to give a tribute. It's always special to hear words about the life that you're celebrating. What makes the person or people you're celebrating special? Not sure what to say? here's a nice memorial dove release selection: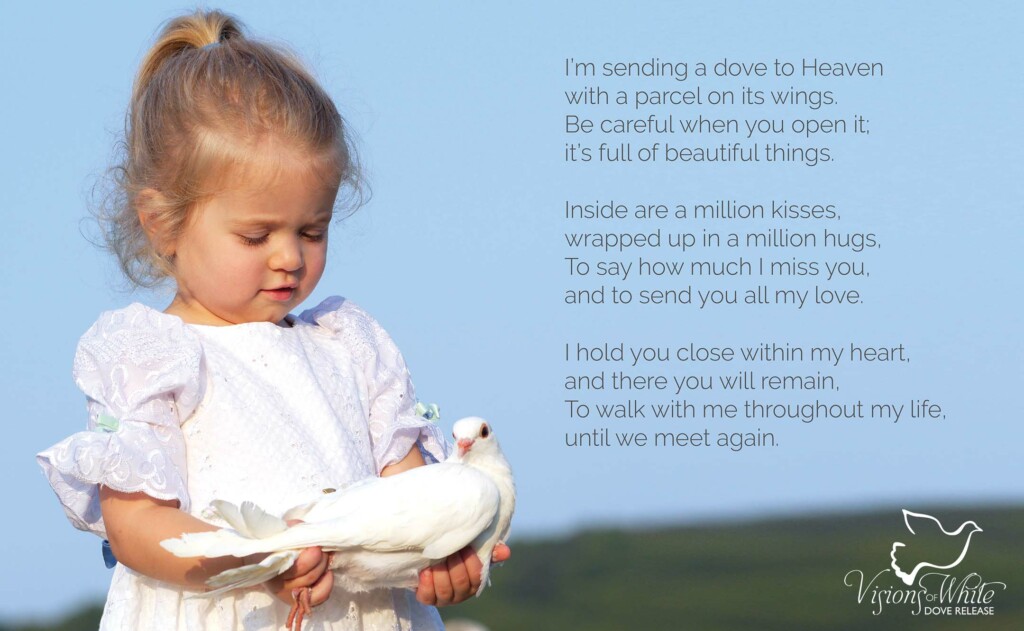 If hiring a photographer to capture the special moment, ensure that your photographer has experience in action photography, as the doves fly out very quickly and won't wait for anyone. From our experience, we recommend a minimum shutter speed of 1000 to capture the movement of the doves' wings without them getting blurry.
If the release takes place in a wide-open area, keep watching for the doves to circle. We can't guarantee how many times they will circle, but it's what they usually do, especially when you release a larger number of birds. This is always a "wow" moment for the crowd!
Do you want the dove release to be a surprise? No problem at all! We know how to keep mum if we know ahead of time.
What (and who) to avoid
You've carefully checked all the boxes to make sure your dove release goes to plan; now let's talk about a few things you want to make sure don't happen!
If you choose to release the birds by hand, please be gentle. Yes, you want to make sure your grip is secure, with a bit of firm pressure to make sure the bird does not struggle to escape, but no tighter. Birds (including our doves) breathe differently than humans – they don't have a diaphragm. This makes them a little more delicate, so please hold your dove carefully. We've seen releases where the poor birds have been squeezed too much and can barely fly away when released. They will then fly to the nearest perch to recuperate, spoiling the effect of your dove release.
And now for the tea – who to avoid!
Always check to make sure that the doves have been trained to return to their loft. Some businesses, claiming to "release doves," will bring untrained doves that they simply bought from a small animal auction. This causes a host of problems! These birds will take a lot of coaxing to flap out of the basket, and then they'll usually fly to the nearest tree to perch, instead of circling and flying home.
And speaking of home, since these birds are untrained, they will just wander until they find a wild flock of pigeons to join – but that's the best scenario. Releasing an untrained bird is akin to a death sentence.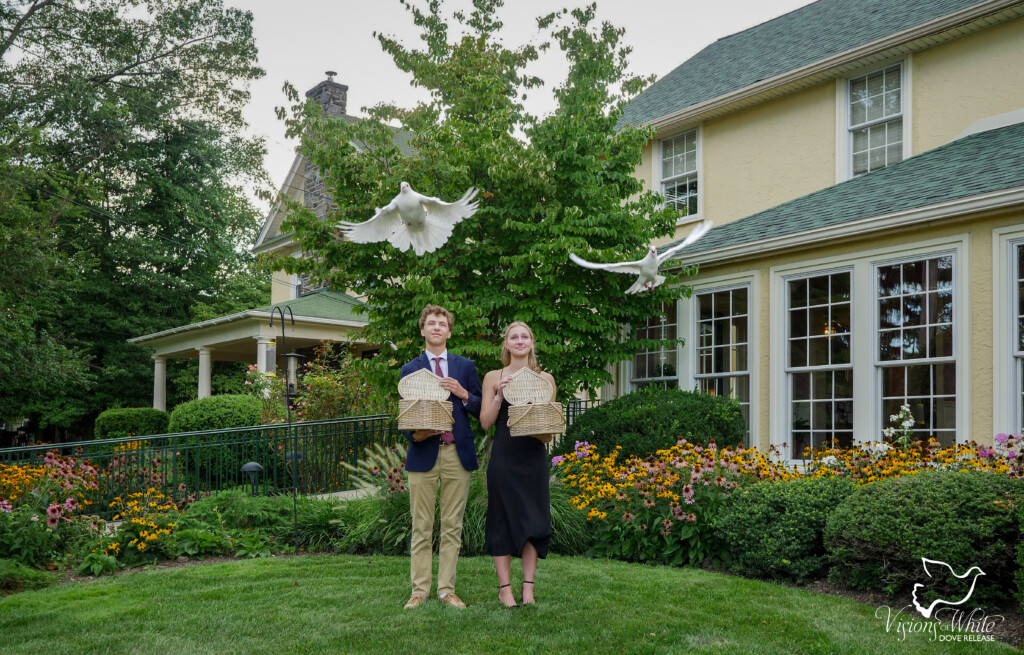 What to expect on the day of your event (and what if it rains?)
The day will begin with a text from your handler for the day, reconfirming the dove release and time. This is why we strongly recommend that you have a trusted individual be the coordinator so that we can communicate with him or her. He/she then plans to arrive on-site in plenty of time to scout out the location, so as to be ready to go when you are. When the time comes, you will get your dove in a beautiful heart-shaped basket. Your only job is to lift the lid of the basket and watch the dove take to the skies.
Yes, it really is that simple!
As for the weather – our doves enjoy flying in all kinds of weather, and conditions such as light rain or even snow doesn't bother them in the least. That being said, an impending severe thunderstorm is a reason to cancel a dove release. And don't worry, if you placed a deposit, we'll give you a full refund.
We hope this information has been useful! It is our hope that we can meet your dove release needs in Philadelphia and beyond. Having done literally hundreds of dove releases over the years, we do the hard work in raising, training, and delivering the doves to you, so that you only need to open a basket for a lifetime of white dove memories.
But don't believe us, read what our customers have to say below:
If you have any questions, please don't hesitate to get in touch. We're only a phone call or an email away.