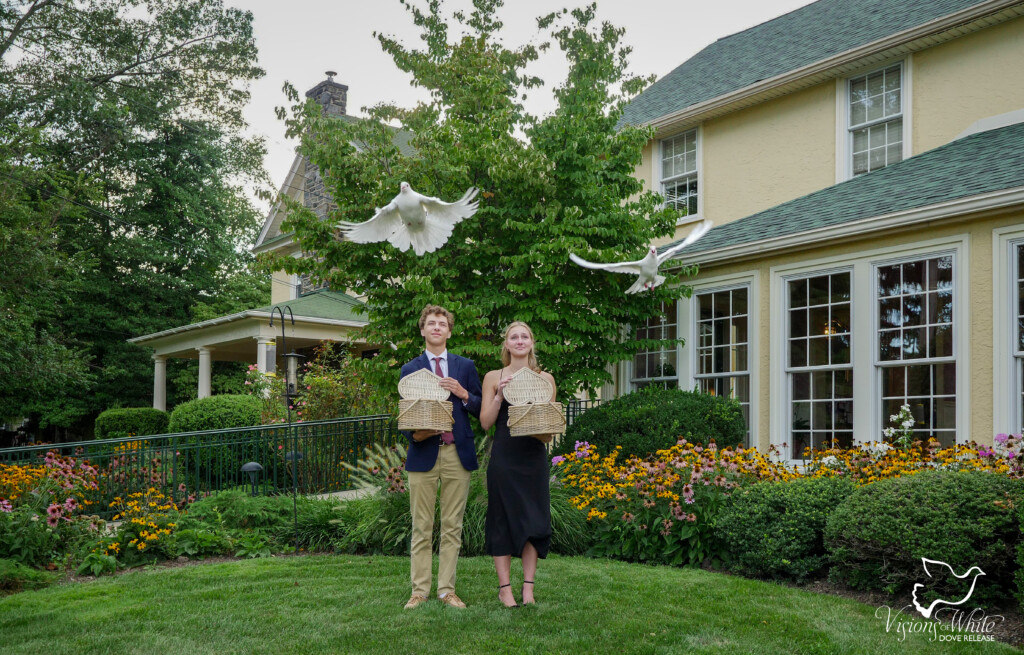 Looking for a dove release for your event in Havertown, PA? See the above image for an example of our white dove release services such as this one that took place at Stretch Funeral Home in Havertown, PA. 
Why Release Doves in Havertown, PA?
A white dove release at a funeral is a poignant and symbolic gesture, offering solace and closure. These graceful birds symbolize peace, love, and the eternal spirit, providing a comforting tribute to the departed. The release becomes a beautiful and memorable moment, allowing mourners to witness the uplifting sight of doves taking flight, representing the soul's journey beyond. It adds a unique, therapeutic dimension to the grieving process, fostering a sense of peace and honoring the memory of the departed with grace and beauty.
When you book with Visions of White, you get the following:
A trained dove handler who plans to arrive at your event in a timely manner. 
Your selected number of doves in beautiful, heart-shaped baskets. 
To release the doves, you simply lift the lid of the basket after which their training to return home takes over. 
Don't be hesitant, see what others have said about our services:
Our dove release services are guaranteed or your money back. 
Cost of White Dove Release in Havertown, PA
What does it cost to release doves for a funeral in Havertown, PA? We're glad you asked because we have a one-of-a-kind calculator to answer that very question. Simply select the number of doves by dragging the slider below, enter your delivery address and you get the exact cost for your dove release (unless you are looking for more than 12 doves, in which case contact us for a custom quote).
Besides funeral doves, we provide white dove releases for weddings and other special events. 
Questions? Don't hesitate to leave a comment below, give us a call, or send us a message.